Large Traditional Murano Chandelier L6010K30
Large Traditional Murano Chandelier. Pleasing the sense of mind, perfectly crafted gold glass large traditional Murano chandelier with gold metal finish stem and details. It is large size classic Murano chandelier with a touch of the modern look. Perfect for large house family room, staircase or open large foyer.
SKU: DM060100K30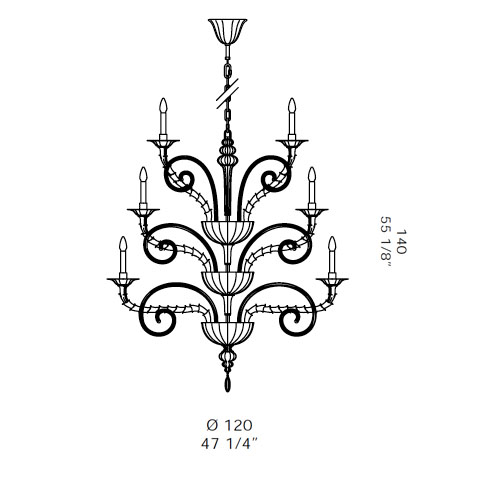 Size:
D. 37.4″ x H. 55.1″ (D. 120cm x H. 140cm)
Bulbs:
30 x E12, up to 46W MAX, 110V-130V (E14, 220V-250V)
Glass Color:
 Gold (Clear glass, milky white, black or custom color)
Metal Finish:
 Gold (Chrome, Polished White/Black lacquer)
Weight:
176.4lbs (80kg)
Request Price Quote
Glass available in the following colors: clear glass with chromed structure, clear glass+gold leaf with gold structure, black glass with polished black lacquered metal structure, milk-white glass with polished white lacquered metal structure.
It is also available in 18 lights, 24 lights or custom size, custom Murano glass color and custom metal finish upon your request.
Please reply with a specified request by email listed on the
Contact Us
page or
call
Tel. 1-800-310-9025